June 21, 2016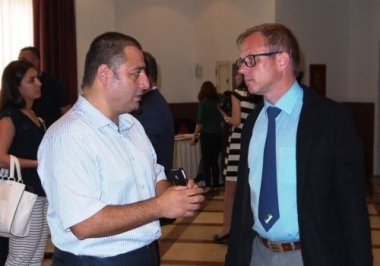 Cooperation between the ENPARD Project and AM Partners evolves
Presentation organized by the ENPARD Project and AM Partners Consulting Company was conducted in Congress Hotel of Yerevan. ENPARD Project is development initiative implemented with funding provided by the European Union and the Austrian Development Agency, the United Nations Industrial Development Organization (UNIDO), within the European Neighborhood Programme for Agriculture and Rural Development (ENPARD). The Project supports 14 cooperatives (involving more than 600 farmers) to process high value agricultural products in Armenia, including buckwheat, high value cheese, dried fruits & herbs, and broccoli.
Within the frames of the ENPARD Project, AM Partners Consulting Company carried out value-chain and market studies for the abovementioned products (market segments) and developed business plans for agricultural cooperatives supported by the Project.
During the event, Vahe Mambreyan, Director of AM Partners made a presentation on the results of completed works. It was specified that cooperation between the ENPARD Project and AM Partners resulted in substantial benefits for the organizations supported by the ENPARD, they were given an opportunity to develop as feasible businesses, which is the ultimate objective of the ENPARD Project.
The event was attended by Mr. John Barker, International Aid/Cooperation Officer of the European Union Delegation to Armenia, Mr. Frank Hartwich, ENPARD Project Manager from UNIDO HQ in Vienna, as well as beneficiary farmer groups from 6 marzes of Armenia, relevant stakeholders and other participants.